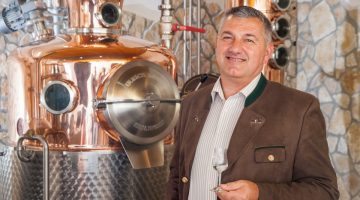 Birkás Pálinka Distillery
The people in the hilly countryside of Vasi Hegyhát have cultivated the plants and fruits since ancient times, from the excellent fruits there is a possibility to create pálinka. The family business was founded in 1990 by the owner couple in Győrvár, back then contract distilling took place and from the year of 2006 they operate as commercial distillery as well. Today they distribute under the brand of Birkás Pálinka their products. In their pálinka house in Győrvár the pálinka is produced traditionally in copper pot with modern equipment, they supervise every step of the production, thus they are able to guarantee the outstanding quality of every bottle. The good quality of the product is confirmed by the results of several competitions. Visitors have the chance to follow the chain of production. In their tasting house customers are spoiled by pálinka tasting. The Birkás family welcomes guests all year around.
9821 Győrvár, 435 Hrsz.
info@birkaspalinka.hu
+36 30 256 3066
www.birkaspalinka.hu
Palinkas of this Palinka House