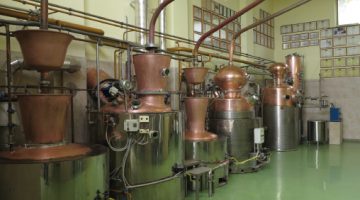 Bolyhos Pálinka Distillery
The Bolyhos family, following the ideas of the founder, László Bolyhos, has been dealing with pálinka distillation since 1994 in their factory in Újszilvás. Owing to the development, in accordance of the requirements of the European Union, they have conducted commercial distillation since 2003 as well. Their aim is the pálinka to become an appreciated, regularly and responsibly consumed national drink again. Beside the traditional pot still distillation, they also distillate with aroma column equipment in the pálinka distillery, which is bottled mainly as 40 and 50 proof bedded pálinkas. The excellent qualitied pálinkas made from fruit bedded with their own dry fruit. They built an unique fruit drier on their own in 2018. The Party box products were developed for the 25 birthday of the company. This pack was awarded with a special prize at a competition called "Hungaropack 2020". In their pálinka shop in Újszilvás, more than 200 products of the pálinka distillery can be viewed and purchased. In their summer and winter pálinka tasting room, they welcome their dear guests to one of their pálinka tasting programs.
2768 Újszilvás, Bicskei út 34.
bolyhos@bolyhos.hu
+36-20-285-2033
www.bolyhos.hu
Palinkas of this Palinka House