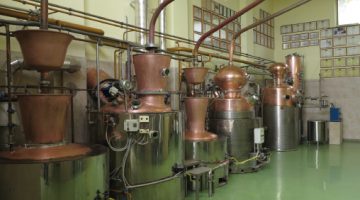 Bolyhos Pálinka Distillery
The Bolyhos family, following the ideas of the founder László Bolyhos, has dealt with pálinka distillation since 1994 in their factory at Újszilvási. Thanks to the development, in accordance of the requirements of the European Union, they have conducted since 2003 commercial distillation as well. Their aim is, that pálinka should become once again an appreciated, regularly and responsibly consumed national drink. Beside the traditional small pot distillation, they also distill with aroma column equipment, later it is used mainly for their 40 and 50 proof bedded pálinkas. To promote the quality bedded (ágyas) pálinkas, they created the Újszilvási Ágyaspálinka Festival, which took place for the 12th time in 2017, visited by several ten thousands of people. Thanks to the continuous expansion they await the customers with a sample shop and a pálinka tasting house, which satisfy all demands.
2768 Újszilvás, Bicskei út 34.
palinka@bolyhos.hu
+36 53 587 510
www.bolyhos.hu
Palinkas of this Palinka House