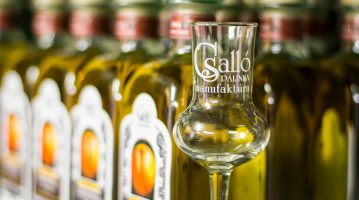 Csalló Pálinka Manufactury
At the border of Balatonalmádi, the distillery is situated in the picturesque Vödörvölgy, they have been contract distilling since 1999 and since 2005 they have also been bottling their own branded products.
The family company is dedicated to the traditional pot-still distilling, but doesn't discard the modern techniques and their self-developed, innovative technologies either.
Their commitment towards renewable energy and green solutions is proven, as they use natural compost, return pomace by permission and reuse cooling water. They are happy to receive visitors, gourmets on their well-shaded tasting terrace, as well as offer a distillery visit with tasting through prior bookings.
8220 Balatonalmádi, Vödörvölgyi út
csallo@csallo.hu
+36 30 9471811
www.csallo.hu
Palinkas of this Palinka House