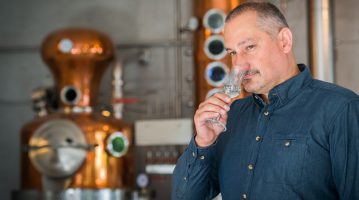 Erős Pálinka Distillery
The Erős family name has meant one with the craftmanship of pálinka distillation for generations in the Jászság. The family business, founded in 1929, is one of the oldest distilleries of the country, where experiences have been going on from father to son for more decades alloying the pálinka master engineering knowledge and with today´s modern technology in the back. Tradition and dynamism are reflected in their work, so besides keeping the traditional so-called pot still distillation, with continuous innovation and development, as a result, they came out in 2016 with their own pálinkas under the name of Erős Pálinka, the essence of valuable fruit, the Pálinka of Jászság. Their aim is to keep the recognition – they already have – with their Pálinkas, and to represent the highest quality with the most magnificent aroma and flavour in each bottle. Their expertise is confirmed by the following products as well.
5100 Jászberény, Neszűr 12.
eros.sandor@invitel.hu
+36 20 661 2366
www.erospalinka.hu
Palinkas of this Palinka House