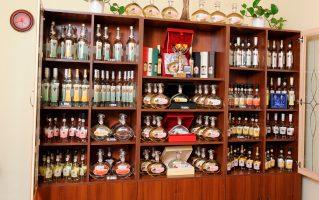 Mályinka Pálinak Distillery
Without making compromises, the pálinkas have been produced using professional knowledge and experience since 1978 at the foothills of Bükk. The pálinkas are made with the traditional wood fired, red copper distiller and fine distiller caldrons, which today represent and preserve museum value. All aspects of the work are personally overseen: from the preparation of the fruit to the process of fermentation, slow and gentle distillation and special aging until the bottling. The 'Mályinkai Pálinka' is produced in limited numbers, perfect for presents, hand bottled in gift box, all of which enhance the quality of the pálinka – thus the value of the 'Hungarikum'. The product, highlighted here, received the highest esteem awarded by the professionals, since it has been chosen the best pálinka of Hungary in 2017.
3645 Mályinka, Árpád út 9.
dkerikaszeszfozde@t-online.hu
+36 20 575 5516
www.malyinkapalinka.hu
Palinkas of this Palinka House