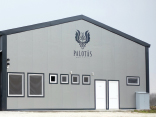 Palotás Pálinka House
Bordering the Great Plain, close to Cegléd, in Csemő, the Palotás Distillery opened its doors in 2012. The pálinkas are made mainly from fruits, grown nearby, therefore they truly give back the unique
flavour of the region. Both distilling and bottling are done by artisanal methods, hence all the pálinkas are unique. Beside the traditional flavours, there are varieties, such as black sour cherry, wild pear, wild apple, rowanberry, mulberry, blackberry or elderberry. They have several award winning products, one of them is the Blackcurrant Pálinka, which became Pálinka Excellency.
2713 Csemő, Őzde dűlő, 0210/9 hrsz
palotas@palotaspalinka.hu
+36 53-5487-521
www.palotaspalinka.hu
Palinkas of this Palinka House